7 Alternatives to PowerApps
PowerApps and Flow are designed as replacement for InfoPath and Access Web Apps – both discontinued products from Microsoft.
For companies that are invested in the Microsoft platform, converting to PowerApps is a natural step because it's included  in some Office 365 subscriptions. However, it isn't an exact replacement for either of these products and it might not suit your needs.  There are various posts on the limitations of PowerApps on the web, such as this.
If you're thinking of using replacing a legacy system with PowerApps, here are some alternatives that you can explore. The list here focuses on data collection systems that are simple to use, and require minimal coding skills.
1 - Microsoft Forms
Microsoft Forms is a product that provides simple form generation.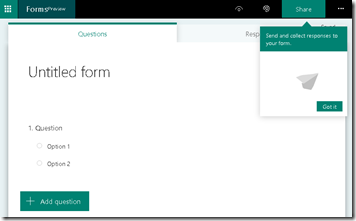 Fig 1 – Microsoft Forms
Here's the link to Microsoft Forms: https://support.office.com/en-gb/forms
It is designed for survey, quiz, and poll generation, especially in the education sector. It's a competitor to Google Forms.
https://www.google.co.uk/forms/about/
Unlike PowerApps, unauthenticated/public users can complete forms. We can view the responses online through the Microsoft Forms website. It's available free of charge with certain Office 365 subscriptions.
Note that Microsoft state clearly that Forms is *not* a replacement for InfoPath, but there may be sufficient functionality in this product to suit your needs.
2  - SkyBow
Skybow is specifically marketed as a replacement for InfoPath, Access Web Apps, and Lotus Notes. Therefore, can suit your needs well if you're migrating from one of these products.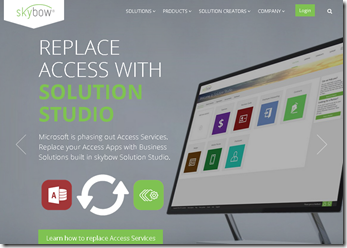 Fig 2 – SkyBow
You can build fully featured solutions with email integration, search features, data aggregation, scheduled actions, and Word document generation. SharePoint is the main data storage provider. 
To design forms, the prices are around $200/month for 100 users.
Here's the link the SkyBow website: https://www.skybow.com/
3 - Stratus Forms
Unlike most other solutions, Status forms offers a free license for non-commercial use . It enables us to build forms over SharePoint.
There isn't a visual designer like PowerApps, but there is the ability to apply rich customization with HTML, CSS, JavaScript. A good feature is the ability to encrypt the data in a form, or data in specific fields.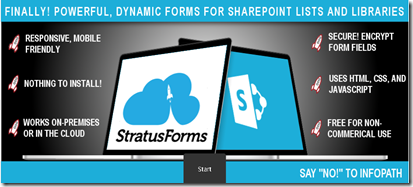 Fig 3 – Stratus Forms
Here's the link the Stratus website: http://www.stratusforms.com/
As a side note, here's the link on the PowerApps ideas forum that suggests JavaScript support for PowerApps.
4 – Nintex Forms
Nintex is a well regarded solution. It provides workflow and many other rich features, including JavaScript and CSS support.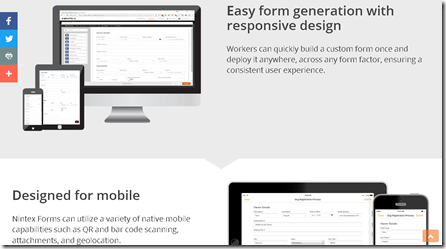 Fig 4 – Nintex Forms
This link on the MSDN forums summarises the main advantages and disadvantages.  There is good support for data sources – with the Enterprise edition, we can connect to SQL Server. The standard edition starts at $625/month for 25 users.
Here's the link to the Nintex website: https://www.nintex.com/
5 – FlowForma
FlowForma is a fully featured platform. The benefits include an InfoPath migration tool, document generation, and workflow. FlowForma stores the data in SharePoint.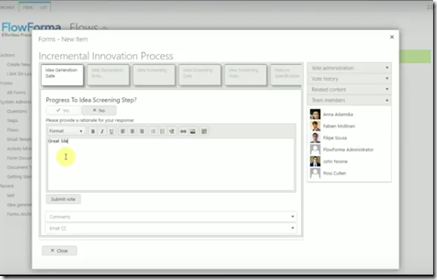 Fig 5 – FlowForma Forms
Here's the link the FlowForma website: http://www.flowforma.com/
6 – Lighting Forms (SharePoint Forms Editor)
Lightning Forms is a forms creator for SharePoint. It provides workflow functionality, and the ability to add logic with expressions.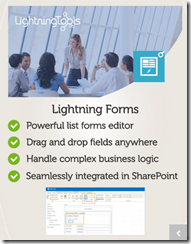 Fig 6 – Lightning Forms
Here's the link the Lightning Tools website: https://lightningtools.com/products/lightning-forms/
7 – Formotus
Offline working, InfoPath converter, good mobile support for iOS, Android, Windows 10.
You can import Excel files for use in forms and submit data to SharePoint, Google Docs, and other supported web services. Like PowerApps, the form designer includes camera and signature controls.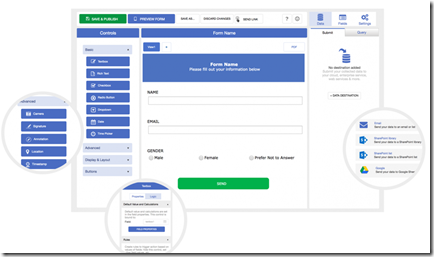 Fig 7 – Formotus
For business use, prices start at around $30/user per month.
Here's the link the Formotus website: http://www.formotus.com
Conclusion
This post provides some alternatives to PowerApps that you can consider. The list focuses on form based products that are suitable for non-developers. Although PowerApps has its limitations (such as printing, delegation restrictions, no support for external users), a highlight of PowerApps is the ability to connect to on-premises data. PowerApps does receive frequent updates and often, we can overcome most challenges with the help of Flow.