Blog
Build - Claim a free "PL-400 Microsoft Power Platform Developer" exam voucher and become Microsoft Certified
If you're looking to learn about the latest news and innovations from Microsoft and receive a free Microsoft certification in the process, you should join the Cloud Skills Challenge at Build 2023. This post describes what's on offer and how to register.
It's almost that time of the year again! Each May, Microsoft hosts the Build Conference. This annual conference showcases the latest innovations, trends and best practices in software development using Microsoft technologies.
It takes place in-person and online during the 23th-25th May 2023 and it's free to register from the link below.
For at least the last 3 years, one of the great things about Build is that we can register for the 'Cloud Skills Challenge' by attending. The challenge provides a range of structured learning courses and by completing a course, you can receive a free exam voucher. The value of an exam can be up to $130 so it's worth doing if you're thinking of attaining Microsoft certifications.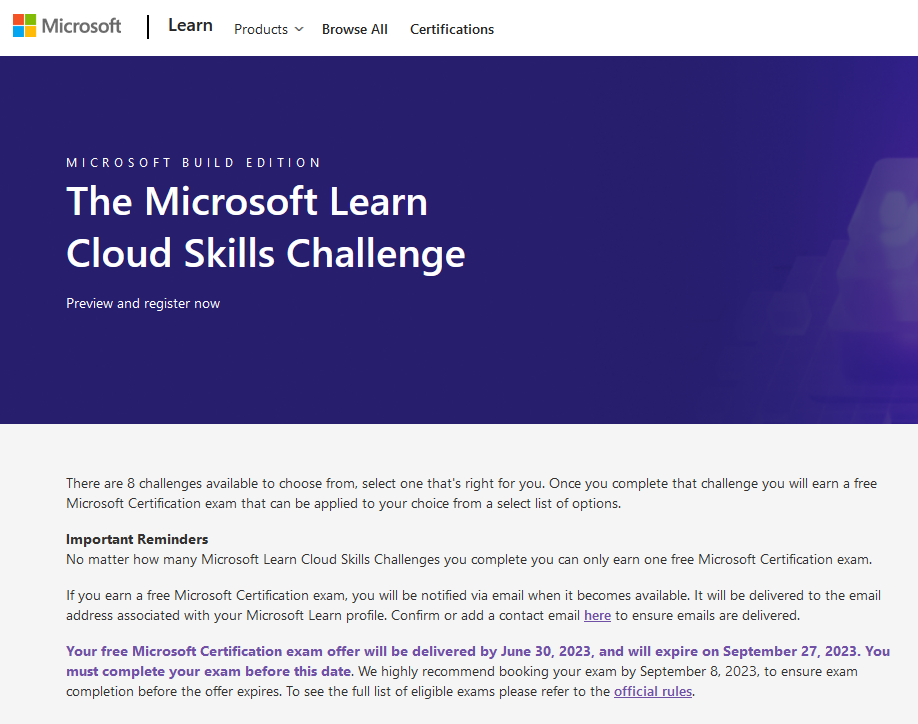 This year, the free exams on offer are as follows:
AI-900: Microsoft Azure AI Fundamentals
AZ-104: Microsoft Azure Administrator
AZ-204: Developing Solutions for Microsoft Azure
AZ-305: Designing Microsoft Azure Infrastructure Solutions
AZ-400: Designing and Implementing Microsoft DevOps Solutions
DP-420: Designing and Implementing Cloud-Native Applications Using Microsoft Azure Cosmos DB
PL-400: Microsoft Power Platform Developer
For Power App builders, the PL-400 exam is particularly relevant. The exam forms part of the requirements for attaining the "Power Platform Developer Associate" certification and covers developer topics that include Dataverse, PCF controls, plugins, ALM, APIs and custom connectors.

In summary, this is a great opportunity and you can find the full terms and conditions here:

https://www.microsoft.com/en-US/cloudskillschallenge/build/officialrules/2023