Blog
Save the Date - Powerful Devs Conference February 15 2023
If you're a developer and you want to learn how to better leverage the Power Platform, I recommend that you register for the upcoming Powerful Devs conference.
Powerful Devs 2023 is a free online conference that takes place on Wednesday 15th February 2023 at 9 AM (5PM for those in the UK). It features some great speakers including the Microsoft corporate vice president of the Power Platform, Charles Lamanna.

You can register for free through the link below: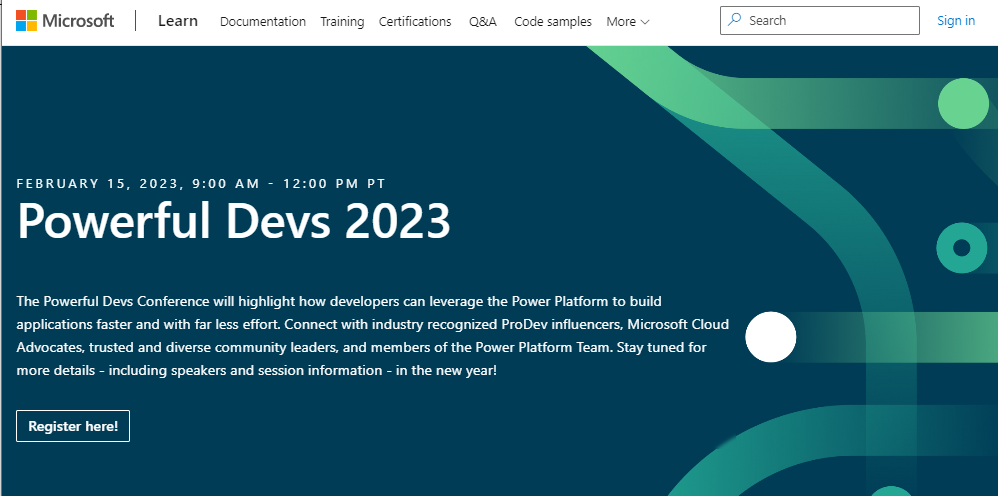 Here's a summary of the event agenda.

09:00 PT    Welcome with Dona Sarkar and Greg Hurlman
09:05 PT    Keynote with Charles Lamanna
09:35 PT    The Pro Devs toolbox for Power Platform integration with April Dunnam and Scott Durow
10:15 PT    Enable millions of low code devs by building custom connectors with Nitya Narasimhan and Daniel Laskewitz
10:45 PT    Use your Pro Dev skills to power up you Power Apps front end with Diana Birkelbach
11:15 PT    Integrate OpenAI with the Power Platform with Julia Kasper
11:25 PT    How to do ALM with Power Platform with Kartik Kanakasabesan and Casey Burke
11:55 PT    Wrap Up with Dona Sarkar and Greg Hurlman