Blog
First UK Reading Dynamics 365 & Power Platform User Group meeting
Find out what happened at the first Reading UK Dynamics 365 and Power Platform User Group meetup in Reading, England.
For Dynamics 365 and Power Platform professionals in the Thames Valley area of the UK, tonight was an exciting evening because it was the first meetup of the UK Reading Dynamics 365 and Power Platform User Group.

Together with Areti Iles and Fraser Dear, we co-founded this local user group, which is a chapter of the wider UK D365 and Power Platform user group.

Our first meeting took place at the UK Microsoft headquarters in Reading. The available places were booked up very quickly and we held a successful first meeting with plenty of great networking opportunities.

We were delighted to host a couple of talks by two superstars of the UK community - Chris Huntingford and Carl Cookson. Chris gave a great presentation on "Functional Consultants vs Citizen Developers", where he demystified all the numerous job titles that are out there, and gave some great advice on strategy and the important role that low-code plays in the industry.

Carl gave a great demo on how to use APIs to build a Canvas app version of a 'Spotify' music player, and I learned some great tips on making HTTP requests from Flow.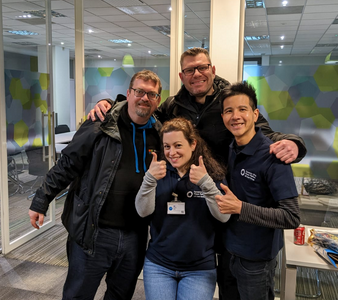 Our next meeting is scheduled for Wednesday, April 26th 2023. You can register through the link below and we hope to see you at one of our events soon!