Blog
Microsoft Ignite 2022 - Highlights and summary of Power App announcements
The Microsoft Ignite conference is one of the biggest annual events in Microsoft's calendar. Here's a summary of the top highlights for Power App builders.
The Microsoft Ignite conference covered a lot of interesting content across the entire Microsoft Cloud platform.

To find out everything that was covered in the conference, an excellent resource is the 'Ignite Book of News', which you can download from here:

What exactly were the key highlights of the conference?

The key highlights of Ignite 2022
In his keynote speech, Satya Nadella (Microsoft CEO) key statement is that Microsoft's focus is to enable customers to "Do more with less". This means doing more with the time, money and resources that we have.
The technology focus is split into five key areas: data, AI, cloud platform development, Microsoft 365, and security.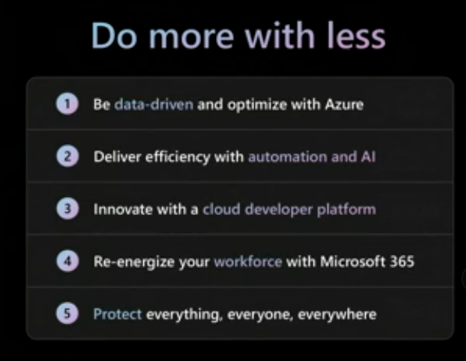 The interesting products that were announced included:
Data/Infrastructure - Azure Cosmos DB will now support native PostgreSQL.

AI - Microsoft Designer - an AI based graphic designer was announced.

Cloud developer platform - Github Co-pilot, Explain code, and Express design are all AI based innovations that assist development. Microsoft Syntex was announced - this can tag, summarise, and translate high volumes of data using AI

Microsoft 365 - Microsoft Places was announced -  a tool to help plan and define a purpose for physical meetings. Micorost Edge Workspaces will help teams to share sets of browser tabs.

Security - Microsoft Entra helps control identity and access. Microsoft Purview helps with compliance and data governance. Microsoft Priva manages privacy.

Key announcements at Ignite 2022 for Power Apps builders

Satya's keynote included an interesting case study on American Airlines. They built an app with Power Apps and Teams to facilitate communications between everyone involved in a flight. The users include gate agents, flight attendants, pilots, and behind-the-scenes crew. The app creates a flight channel for each flight, and every person involved in turning around a flight is subscribed to the channel. American Airlines were able to build this app for 25% of the time and effort compared to traditional development.

So far, Ignite has included less new content on Power Apps. This is because several major features were recently announced at the Power Platform conference. This included:
Co-authoring - the ability for multiple app makers to make changes to an app at the same time.

Virtual agent integration in Power Apps

Cards - the ability to build mico-apps in Teams
However, interesting Power Apps related news that we've discovered today includes:

The new AI-based ability to write Power Automate Flows with natural language

There will be an upcoming feature to more easily create Dataverse virtual tables through a wizard-type interface

For Power Apps that include Power BI reports, solutions will now include the ability to contain Power BI reports and datasets.
Conclusion
The Ignite conference is a great place to learn more about Microsoft cloud, particularly news about upcoming features and announcements. This post summarised some of the highlights from day one.