Blog
Dynamics 365 and Power Platform User Group Q3 2023 meetup -  A Night of Networking and Learning
Find out what happened at the Q3 2023 Reading UK Dynamics 365 and Power Platform User Group meetup in Reading, England.
This evening, Areti Iles, Fraser Dear and I hosted our 2023 Q3 meetup for our Reading Dynamics 365 and Power Platform User Group.
This was our first event at our new venue at Reading College, and our plan is to host our subsequent meetings there.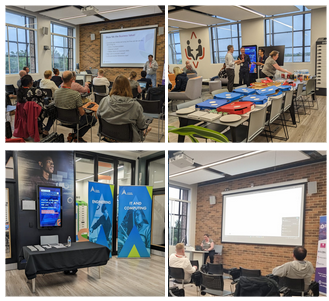 We had a great lineup of speakers, including Laura Graham-Brown and Joe Joe Griffin - both of whom are exceptional speakers. During the event, we learned some great tips on AI and Power BI with Dataverse.

We were also very fortunate to have several MVPs and amazingly talented individuals in the audience. 

We're now finalising our November 2023 meetup, and we're making plans for our 2024 events. If you're interested in attending, you can register via the following link. We look forward to seeing you soon!

https://www.meetup.com/d365ppug/events/289929425/